Imagine with the worlds mad rush to new nuclear what damage could be done if terrorists could get their hands on uranium.....well guess what they have.
Please stop all nuclear both military and energy before the human race extinguishes itself.
Nuclear smuggling: Armenia arrests suspected supplier
Man held in 2005 over illicit weapons grade uranium arrested again following Georgian trial of two Armenians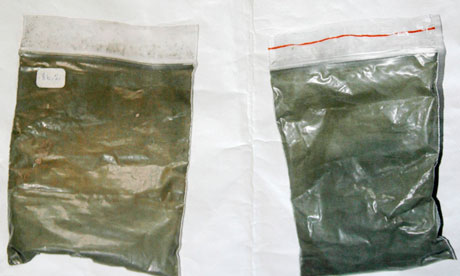 The Armenian national security service said Garik Dadayan, who served several months in 2005 for a previous attempt to smuggle highly enriched uranium, had been arrested after information from Georgian investigators.
Officials, speaking to the Guardian on condition of anonymity, said that Armenian security officials were conducting a joint investigation into the March incident with their Georgian counterparts.
They told Georgian investigators they had been given the weapons-grade uranium by Dadayan, a petty trader and an acquaintance of Ohanyan's, who had boasted he could get hold of much more from contacts in the Urals and in Siberia.
Dadayan was caught in 2003, when the 200 grams of weapons grade uranium he was carrying triggered a radiation sensor at the Armenian-Georgian border. He bribed his way out of detention but was later arrested by Armenian authorities. He only served a few months of a two and half year sentence.
Georgian investigators told the Guardian they suspect Dadayan was allowed to keep some of his stash by the Georgian border guards that he paid off in 2003, and that he supplied this remnant to Ohanyan and Tonoyan, hoping they could find a buyer. The Armenian smugglers were asking $50,000 a gram for their sample and were offering more if the sale was successful.
The US has spent billions of dollars in recent years trying to lock up vulnerable nuclear stockpiles in Russia.
Shota Utiashvili, head of analysis at the Georgian interior ministry, said it was encouraging that the amounts of highly enriched uranium being offered on the black market appeared to be diminishing, but he warned that developments in Russia could lead to a resurgence of the illicit trade in nuclear bomb parts. "There is a new danger that the level of corruption in Russia and the increasing immunity of senior officers means that they may well try to sell this stuff again," Utiashvili said.
Relations between Georgia and Russia have been tense since the two countries went to war in 2008. Russian security services, who gave some assistance in two previous uranium smuggling incidents in Georgia, are not co-operating this time.